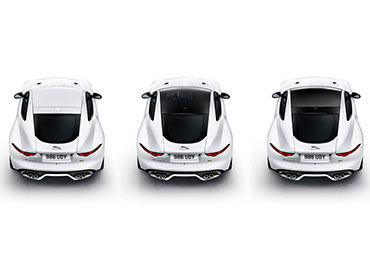 Choice Of Roofs
Aluminum: The aluminum roof is as strong and lightweight as the rest of the vehicle. It provides the ideal complement in color, style and line to the powerful F-TYPE profile.
Panoramic Glass: A full-width panoramic roof on coupe models introduces even more natural light and airiness to the interior, for increased seclusion, the roof features a manually sliding 'black-out' blind.
Carbon Fiber: With carbon fiber outer and inner panels bonded together to create a strong yet light roof structure, the optional carbon fiber roof on Coupe models.